Study space is essential to study effectively. A perfect study environment increases your ability to concentrate on study. If you cannot focus or are not comfortable, you cannot expect to learn very well and stunning results.
So, a good student should perform a study environment research for better academic life.
And, it is crucial to create the best study environment that raises productivity and minimize distractions.
This article helps you to find out the answer to 'how to create a motivational study space?'
According to a study, most students spend a significant amount of time studying- an average of seventeen hours a week. That is almost a part-time job, and it is hard to fit in for students who are already maintaining a family and career.
I personally have found that the right study environment is the key to academic success. As students, we know, studying is a large part of our lives.
It is crucial to launch and establish a platform in which students can be productive.
In this article, I have included a checklist below in the rating of your study environment. It includes where you study, when, and how you learn.
Once you have identified your responsibility for what works for you, try to avoid those conditions you do not perform best.
If you do not know the right answer to one or more of the questions, take the time to experiment.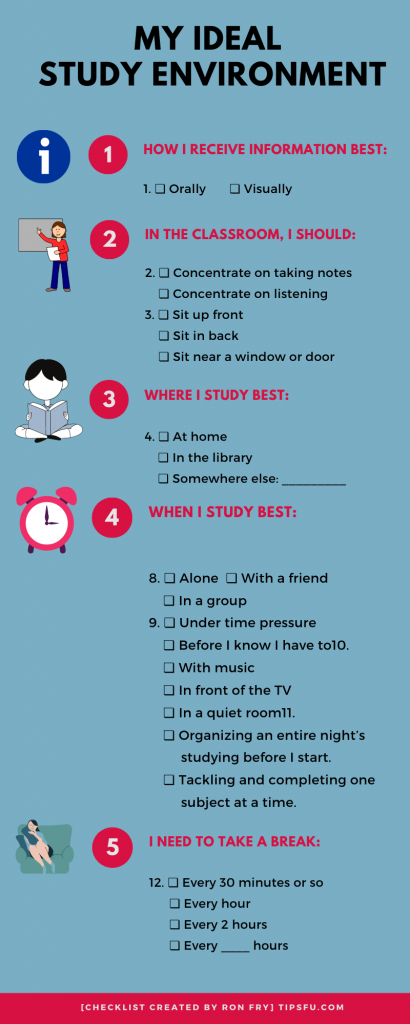 Now Many Of The Items On This Chart Should Be Understandable To You
Why you realize the need for a particular environment is not essential. Knowing you have a preference is. Here's what you are trying to assess in each item of the checklist:
Listening and Seeing
Suppose you prefer "listening" to "seeing," you will have little problem getting the right information from your class lectures and discussions. You will like them to studying textbooks.
Reading Skills
You have to concentrate on your reading skills and spend more and more time with your textbooks to balance this tendency.
Highlighting your selected texts may help.
If you are more of a "visual" person, you will probably find it easier reading your textbook and may have to work to improve your classroom concentration.
Class Notes
Taking brilliant class notes will probably be essential for you too. You will also want to adapt your note-taking methods to your visual preference: Rather than writing notes like everybody else, draw images, use charts, and learn how to "map/chart" a lecture.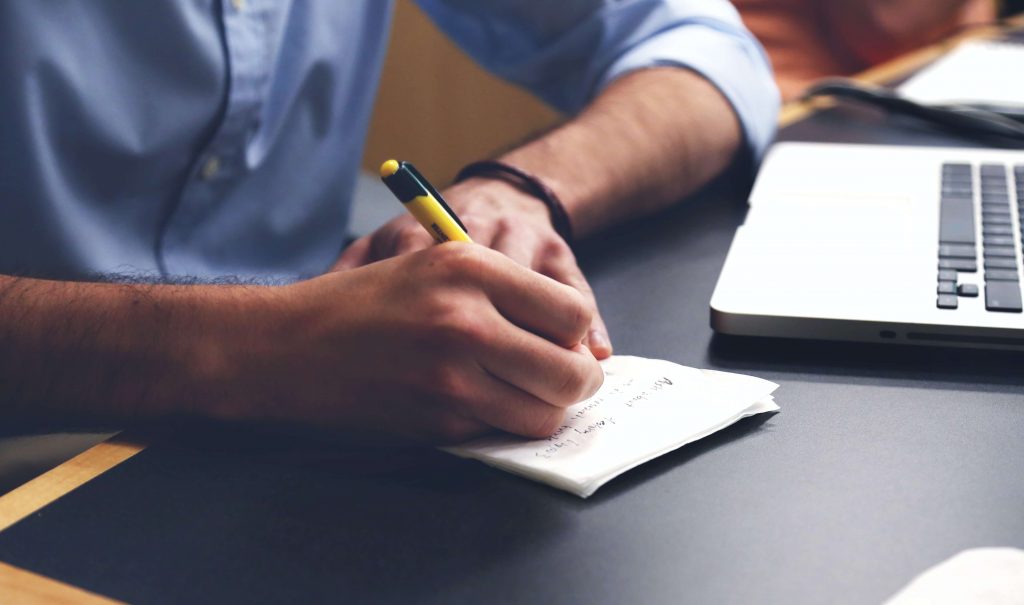 This should be related and link in with your previous answer. The more "aural" you are, the more you should focus on listening. The more "visual," the better your notes should be for later assessment.
This may make a variance for many reasons. You may find it difficult to see or hear from the back of the classroom.
Some students may feel shy and want to sit up front to motivate yourself to participate or contribute to class discussions. You may feel a little less oppressive sitting near a window. Otherwise, you may daydream too much if you are near a window and should sit as far "inside" the classroom as possible.
Location of Study
Naturally, most people have their manner of studying. Some people like to use flashcards; some people repeatedly read the materials until it sticks in the head.
However, some of us do not care about the location in which they are studying.
But the place in which you study matters more than many people realize. Learning in a suitable environment where you feel comfortable increases your concentration and leads to more productive study sessions.
Considering the limitations of the current living situation and schedule, the location you find most conducive to study should be where you spend most of your study time.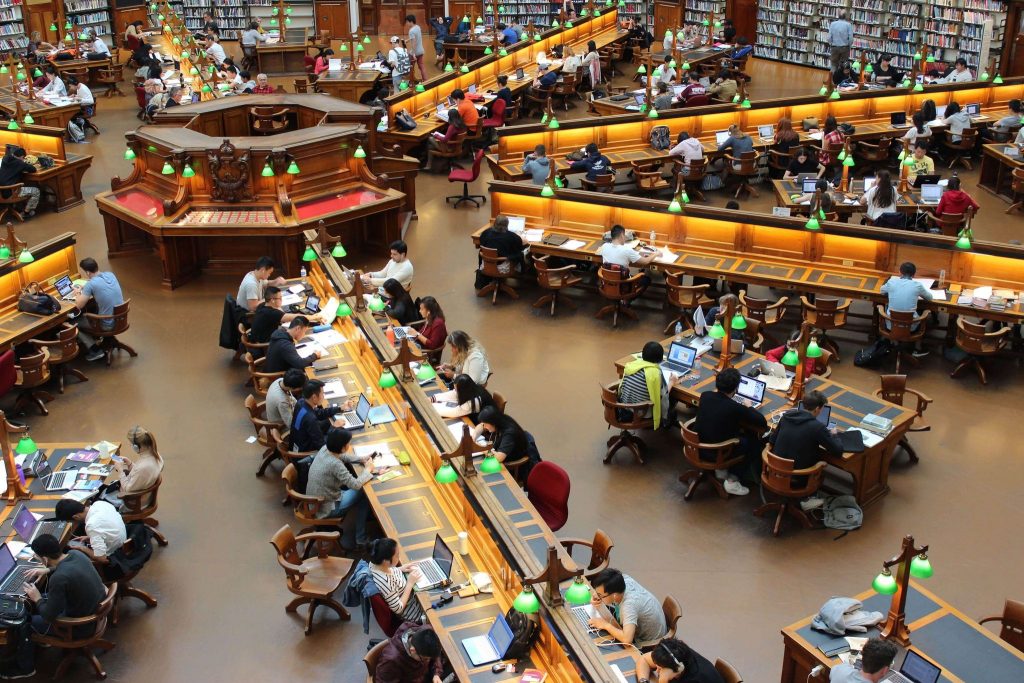 "I don't like studying in Founder's Hall because there's a lot of people going through it,"

Amanda Albarouki
manage your study
Deciding how to organize and manage your study time to most effectively cover the material may depend, comparatively, on the amount of homework you are burdened with and the time of year.
Eat Something
Some of us get bad-tempered if we try to do anything when we are hungry. So eat something if you study poorly when your stomach is growling.
The food you take every day can have a significant impact on how your brain works. Appropriate foods are essential to remember around exam time when you are probably paying more attention to books than break.
So, learn how the food you eat affects your body, then you can choose the right foods that increase your memory, fuel your brain, and help you boom your study schedule.
Read Also: Best Foods To Boost Your Brain and Memory Power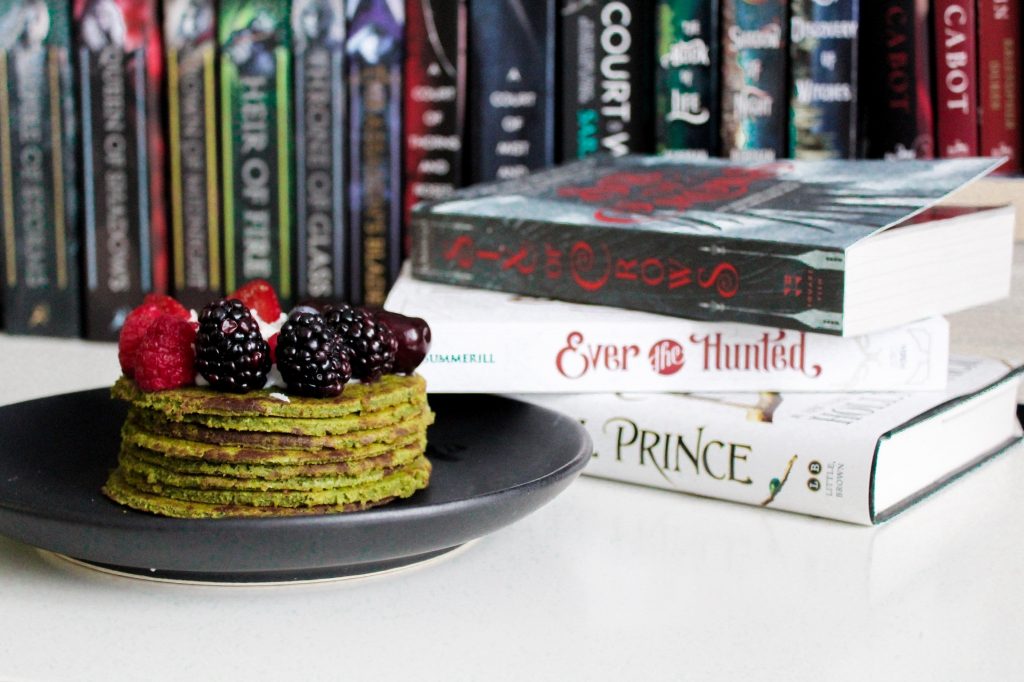 Healthy brain food for studying includes Protein-meat, eggs, fish, legumes, poultry, nuts, and seeds (such as walnuts, almonds, and peanuts, as well as sunflower and pumpkin seeds), dried beans and lentils, and soy products.
Protein sends messages to your whole body and helps to create brain chemicals that ultimately improve your mood.
Most of us grow up studying alone
If we study with a friend, there's usually more talking, TV watching, and anything but studying.
But there is no scope to underestimate the positive effect of learning with one or two friends—or even a more extensive study group. Group study can help your mastery of schoolwork and your grades.
Organize to avoid panicking
You are performing best under pressure. This does not mean that you should leave your projects, papers, and studying for tests until the last minute. It just means you will not panic when an unexpected project, surprise test is announced.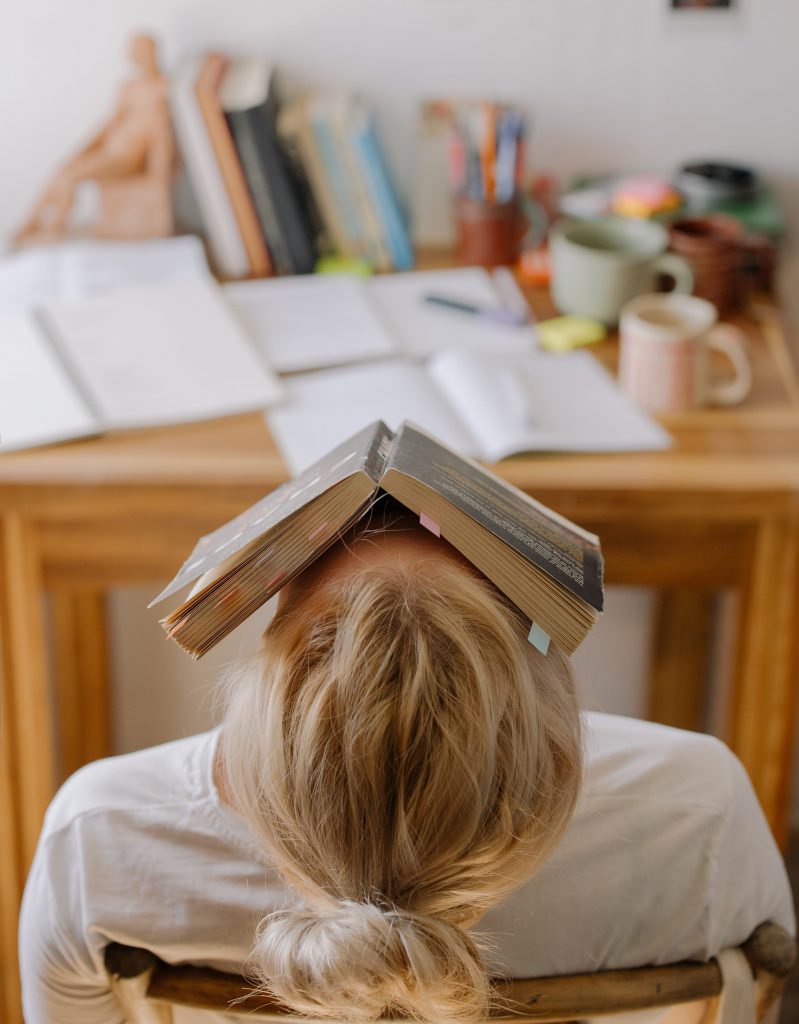 Concentration Under Pressure
If you do not study with concentration under pressure, it doesn't mean you sometimes will not be needed to do so. It is true that the better organized you are, the easier it will be to avoid panicking situations when the unexpected arises.
Need Absolute Quiet
Some of us will find it difficult to concentrate without music or some noise. Other people could not sit in front of the TV. They do anything but breathe and eat. You need absolute quiet to study for a test. If you do not know how you function best, now is the time to find out.
Stable in One Project
It is good to set up a study schedule and complete it before moving to another one. It doesn't mean that you cannot move to another project, while the first one is unfinished.
Some people may have no trouble working on one project, switching to another one and when they get stuck and need a break, then going back to the first project.
Study Break
There is nothing wrong with taking a break during the study and taking a break at study help to keep yourself sharp and maximize your quality study time.
It can help your brain remember information more effectively and improve your concentration and motivation while you are studying!
But your study break shouldn't be every five minutes and don't last longer than the study periods! Taking a study break too frequently will require too much "review time" when you return to your desk.
YOU MAY NEED A BREAK WHEN:
You have been concentrating profoundly and focusing on your work for 45-60 minutes.
When You have been studying for a while, and you are no longer able to focus as effectively as when you started. You notice your mind wandering more frequently, and you are unable to recall information easily.
Need an inspiring break when you are switching from one subject to another.
Remove Distractions
Your study time's success is as good as your ability to emphasize, focus, and concentrate while studying.
Choosing the right study environment, reducing distractions (internal or external), and controlling your multitasking can help make your study time more productive and effective.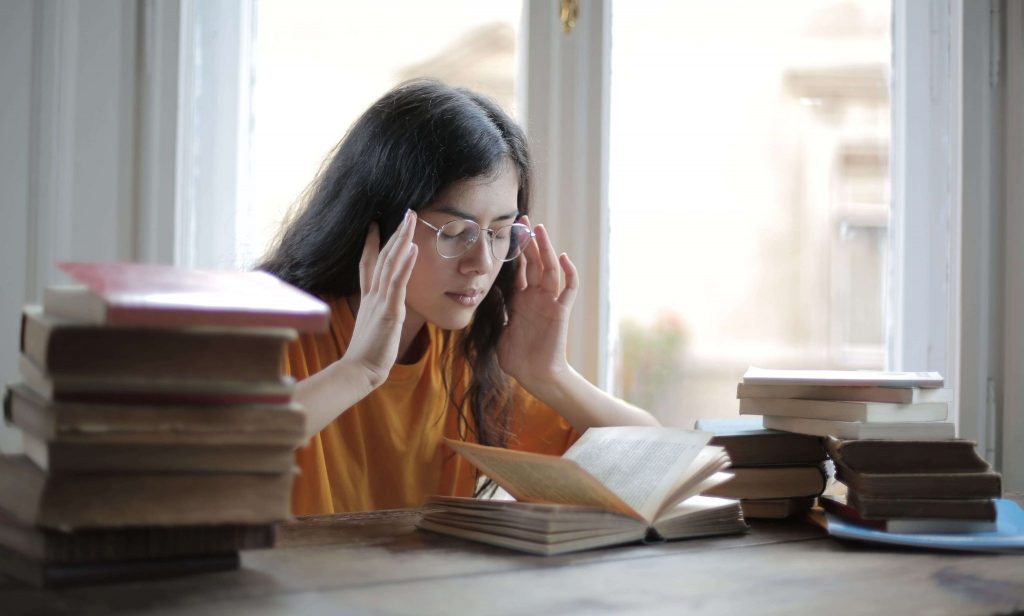 Ways to Avoid Distractions and Stay Focused on Studying
Organized with a to-do list.
Break your big projects into small pieces.
Find the best environment for efficient studying.
Clean up and organize your workspace.
Take a Break. Our life is hectic, so you can find yourself distracted from studying by thinking about something else.
Keep things organized
One of the most significant ways to confirm you get your homework done successfully at home is to keep your notes, books, and other important materials organized.
After using them, please keep your materials in the same place.
Final Thought
A perfect and suitable study environment could be all it takes to get back into study mode. If your institute has a campus library, then it is an obvious choice. But if you are not living near your school, a public library is a good alternative.
I have found that having the ideal study environment is the key to academic success. It is vital to create proper space/places for the study where you can be productive and comfortable.