Unveiling the Ultimate FreshBooks Review: Revolutionize Your Business Finances!
Managing finances and staying organized is crucial for success in today's fast-paced business world. As a small business owner, you need a reliable and efficient tool to streamline your operations and keep your finances in order.
Look no further than Freshbooks – a comprehensive business management tool designed to simplify your financial tasks and boost your productivity. In this review, we will delve into Freshbooks' features, benefits, and usability, establishing why it stands out as the best business management tool on the market.
Freshbooks
Freshbooks is a cloud-based accounting software specifically tailored to meet the needs of small businesses and freelancers.
It was founded in 2003 and has become a trusted and widely used platform by millions worldwide. With Freshbooks, you can automate repetitive tasks, track your expenses, invoice clients, and gain valuable insights into your financial performance.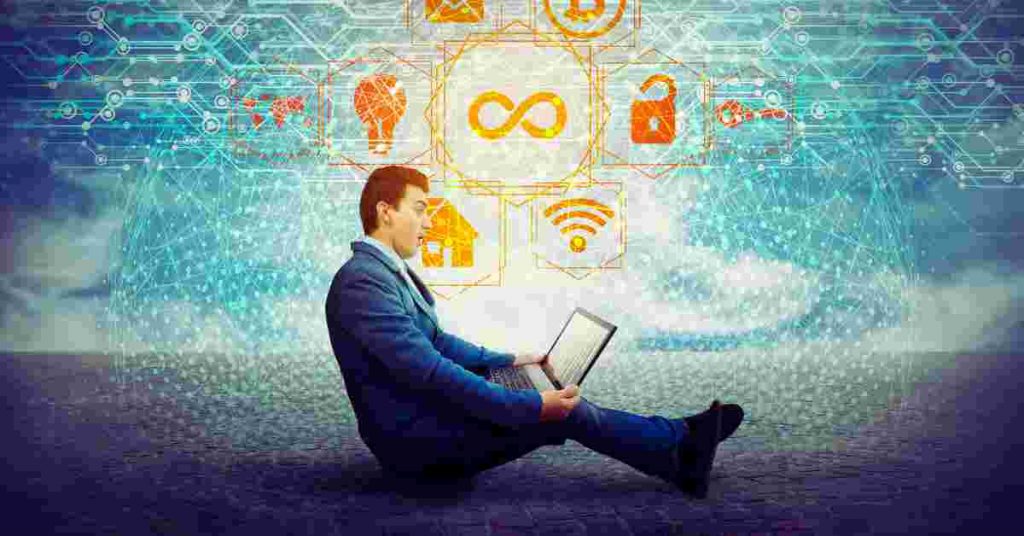 Key Features of Freshbooks
1. Invoicing Made Easy: Freshbooks simplifies invoicing by allowing you to create professional-looking invoices in minutes. You can customize your invoices with your company logo and branding and even set up recurring invoices for regular clients. The automated reminder system ensures that you never miss a payment.
2. Expense Tracking: Managing expenses can be daunting, but Freshbooks makes it effortless. You can easily track your expenses by importing bank statements, categorizing transactions, and attaching receipts. This feature helps you stay organized and make informed financial decisions.
3. Time Tracking: For businesses that bill clients by the hour, the time tracking feature of Freshbooks is invaluable. You can track the time spent on projects, assign billable rates to specific tasks, and generate accurate invoices based on the hours worked. This feature ensures you get paid for every minute of your hard work.
4. Project Management: Freshbooks goes beyond accounting by offering project management capabilities. You can create projects, set deadlines, assign tasks to team members, and track real-time progress. This functionality helps you stay on top of your projects and collaborate effectively with your team.
5. Reporting and Analytics: Freshbooks provides detailed reports and analytics to help you gain insights into your business's performance. You can generate profit and loss statements and expense reports and track your cash flow. These reports enable you to make informed decisions and identify areas for improvement.
Benefits of Using Freshbooks
1. Time-Saving: Freshbooks automates many repetitive tasks in managing your business finances. By eliminating manual data entry and streamlining your workflows, it saves you valuable time that you can invest in growing your business.
2. Professional Image: With Freshbooks, you can create polished and professional-looking invoices that reflect your brand identity. This attention to detail helps you establish credibility and professionalism in the eyes of your clients.
3. Improved Cash Flow: By sending automated reminders for overdue payments, Freshbooks helps you get paid faster. It also offers convenient online payment options, making it easier for clients to settle their invoices promptly.
4. Seamless Collaboration: The project management features of Freshbooks promote seamless collaboration within your team. You can assign tasks, share files, and communicate directly within the platform, eliminating the need for multiple tools and improving productivity.
5. Scalability: Freshbooks grow with your business. Whether you're a solopreneur or have a small team, Freshbooks adapts to your needs. You can easily add users, track additional projects, and handle higher volumes of transactions without any hassle.
Usability and User Experience
Freshbooks prides itself on its user-friendly interface and intuitive design. Navigating the platform is a breeze, even for users with limited accounting knowledge. The clean and well-organized dashboard provides quick access to all the essential features.
The menu is logically structured, allowing you to switch between different sections, such as invoices, expenses, projects, and reports.
Creating and customizing invoices is a straightforward process. It offers a range of templates, and you can easily add your logo, customize colours, and personalize the layout. The drag-and-drop editor makes it simple to arrange the invoice elements according to your preference.
The expense tracking feature is equally user-friendly. You can import bank statements directly into Freshbooks, categorize expenses, and attach receipts. The platform also supports integration with popular payment gateways and apps, making it convenient to synchronize your financial data.
Freshbooks' time-tracking functionality is intuitive and efficient. You can start and stop timers for different tasks, assign billable rates, and associate the time entries with specific projects or clients. The recorded time seamlessly integrates with your invoicing, eliminating manual calculations or errors.
The project management tools in Freshbooks are designed to enhance collaboration and productivity. You can create projects, assign tasks to team members, and set deadlines. The interactive Gantt chart provides a visual overview of project timelines and dependencies. The file-sharing and messaging features also allow for smooth communication within the platform.
Freshbooks' reporting and analytics capabilities are robust. You can generate various financial reports, such as profit and loss statements, expense reports, and tax summaries. These reports offer valuable insights into your business performance, enabling you to make data-driven decisions and optimize your operations.
Pricing Plans
Freshbooks offers different pricing plans to accommodate businesses of various sizes and needs.
The plans are as follows:
1. Lite: This plan starts at $8.50 per month and is suitable for self-employed professionals. It allows you to invoice up to five clients.
2. Plus: Priced at $15 per month, the Plus plan is designed for small businesses. It includes unlimited invoicing, time tracking for up to 50 clients, and proposals.
3. Premium: At $27 per month, the Premium plan caters to growing businesses. It offers advanced features, including time tracking for up to 500 clients and team member collaboration.
4. Select: The Select plan is tailored for large businesses with specific requirements. The pricing and features are customizable based on your needs, and you can contact Freshbooks for a personalized quote.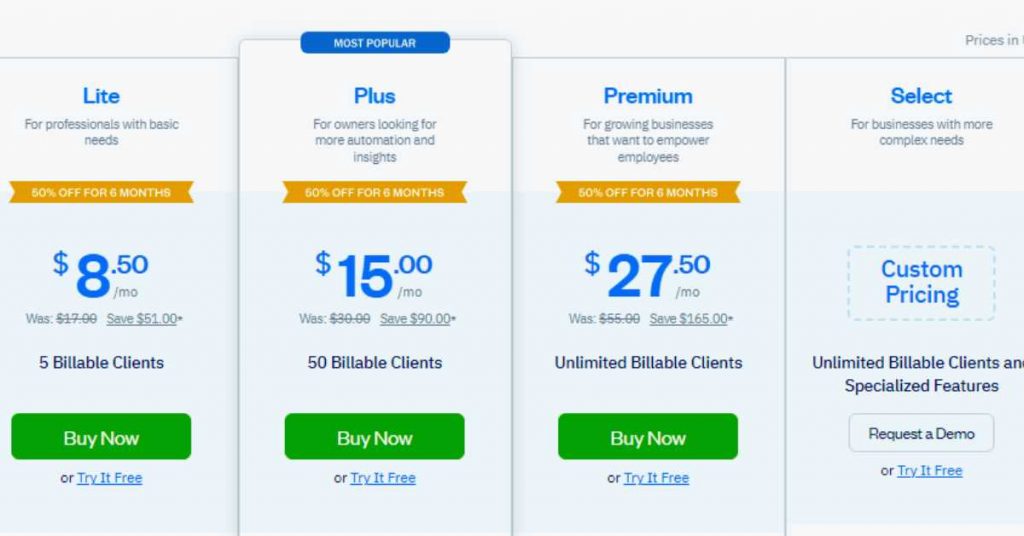 FAQs
Q: Is Freshbooks suitable for freelancers?
Ans: Absolutely! Freshbooks is an excellent choice for freelancers and self-employed professionals. Its invoicing, expense tracking, and time tracking features cater to their needs.
Q: Can I integrate Freshbooks with other apps?
Ans: It offers seamless integration with a wide range of apps and services. You can connect it to popular platforms like PayPal, Stripe, and Shopify.
Q: Is Freshbooks secure?
Ans: It takes data security seriously. It employs industry-standard encryption protocols to ensure the safety of your financial information. Regular backups and secure data centres further enhance security measures.
Q: Can I access Freshbooks on mobile devices?
Ans: Freshbooks has dedicated mobile apps for iOS and Android devices. You can manage your finances, track time, and access important information on the go.
Q: Is there customer support available?
Ans: It provides excellent customer support through various channels. You can reach their support team via email, phone, or live chat. They are known for their prompt and helpful assistance.
Bottom Line
In conclusion, Freshbooks is undeniably the best business management tool for small businesses. With its comprehensive features, user-friendly interface, and excellent customer support, it simplifies financial tasks, saves time, and boosts productivity. Whether you're a freelancer, solopreneur, or small business owner, Freshbooks provides the essential tools to streamline your operations and stay organized.
From effortless invoicing and expense tracking to project management and insightful reporting, Freshbooks covers all aspects of financial management. Its intuitive interface makes it easy for users with varying accounting knowledge to navigate and utilize the platform effectively.
By using it, you can save valuable time by automating repetitive tasks and focusing on growing your business. The professional image you can create with polished invoices and streamlined communication helps establish credibility with your clients.
Additionally, the ability to track expenses, manage projects, and generate insightful reports empowers you to make informed decisions and optimize your business performance.
Freshbooks' scalability is a notable advantage, allowing you to adapt the platform as your business grows. Whether you're a solopreneur or have a small team, Freshbooks can accommodate your needs and handle increased volumes of transactions.
The pricing plans offered by Freshbooks cater to businesses of all sizes and budgets, ensuring you can choose the plan that aligns with your requirements. Moreover, the availability of mobile apps enables you to manage your finances and access important information on the go.
Security is a top priority for Freshbooks, with data encryption and secure data centres to safeguard your financial information. Their commitment to customer support ensures that you can seek assistance whenever needed, either through email, phone, or live chat.
In summary, Freshbooks is the ultimate business management tool for small businesses.