How To Become A Locksmith In Virginia? Learn everything you need to know about becoming a locksmith in Virginia. This article covers the requirements, training, and licensing process.
Introduction
Becoming a locksmith can be a rewarding career choice, providing opportunities to help others and work in a field that is in demand. If you are interested in becoming a locksmith in Virginia, there are specific steps you need to follow. This article will guide you through becoming a locksmith in Virginia, covering education and training requirements, licensing and certification, gaining experience, starting your own locksmith business, and more.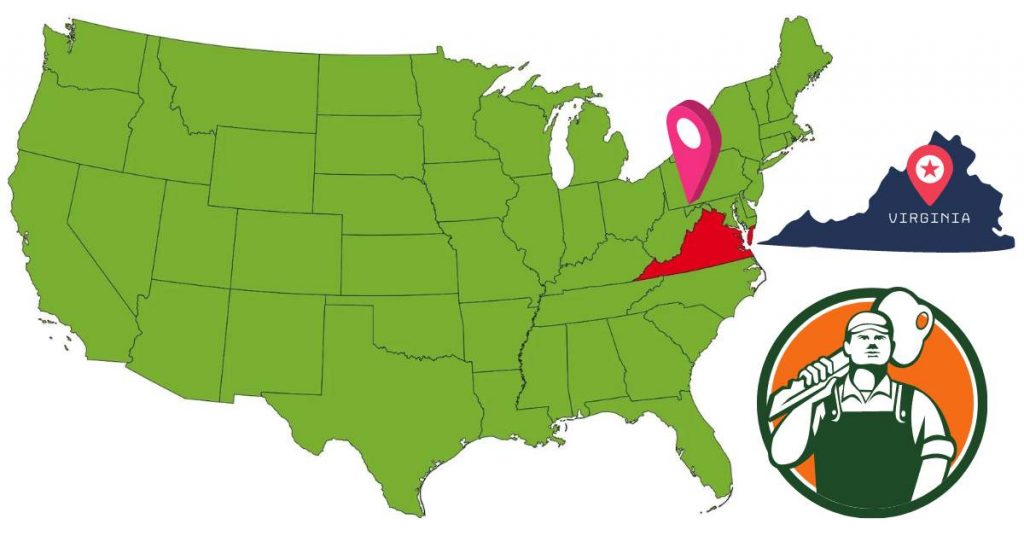 Education and Training
Acquiring the necessary education and training is essential to become a locksmith in Virginia. While no specific educational requirement exists, obtaining a high school diploma or GED is recommended. You can also consider enrolling in a locksmith training program offered by vocational schools, community colleges, or trade schools. These programs cover lock mechanisms, key cutting, installation, and repair techniques.
Licensing and Certification
In Virginia, locksmiths are required to obtain a license. To qualify for a locksmith license, you must be 18 years old and pass a background check. Additionally, you must complete an apprenticeship or work under a licensed locksmith for a certain period. Obtaining professional certifications from recognized organizations such as the Associated Locksmiths of America (ALOA) or the Safe and Vault Technicians Association (SAVTA) is also beneficial.
Licensing and Certification Requirements For Locksmiths in Virginia
Here are the licensing and certification requirements for locksmiths in Virginia:
Eligibility Requirements
Must be 18 years of age or older.
Successful completion of all initial training requirements for each registration category, including a firearms endorsement if applicable.
Must be a United States citizen or legal resident alien of the United States.
Training Requirements
18 hours of locksmith entry-level training (25E).
4 hours of locksmith in-service training (25I).
Application Process
Complete the locksmith registration application.
Pay the application fee.
Submit fingerprints and a criminal background check.
Submit proof of training.
Renewal Requirements
Every two years, locksmiths must renew their registration.
To renew, locksmiths must complete 8 hours of continuing education.
Additional Requirements
Locksmiths must carry a valid registration card.
Locksmiths must keep a copy of their training records.
Locksmiths must comply with all applicable laws and regulations.
For more information, please visit the Virginia Department of Criminal Justice Services website
Certification Courses Available For Locksmiths in Virginia
There are several certification courses available for locksmiths in Virginia. The most common course is the 25E Locksmith course, offered by the Virginia Department of Criminal Justice Services (DCJS). This course is 18 hours long and covers a wide range of topics, including:
Lock anatomy and operation
Lock picking
Key cutting
Safes and vaults
Access control systems
Security procedures
Ethics and professionalism
In order to become a licensed locksmith in Virginia, you must complete the 25E Locksmith course and pass a written examination. You must also be at least 18 years old and a U.S. citizen or legal resident alien.
Here are a few of the schools that offer the 25E Locksmith course in Virginia:
AAA Online Training Academy
American Locksmith Training Center
International Association of Professional Locksmiths
National Locksmith Institute
Universal Locksmith Institute
Once you have completed the 25E Locksmith course and passed the written examination, you can apply for a locksmith license from the DCJS. The application process includes submitting an application fee, providing proof of training and experience, and passing a background check.
For more information on becoming a licensed locksmith in Virginia, please visit the DCJS website.
Gaining Experience
Building practical experience is crucial to becoming a skilled locksmith. Consider working as an apprentice under an experienced locksmith to learn the trade and gain hands-on experience. During this period, focus on developing your skills in different areas of locksmithing, including residential, commercial, and automotive locksmithing.
Specializing in Different Types of Locksmithing
Locksmithing offers various specialization opportunities. Depending on your interests and market demand, You can specialize in residential, commercial, or automotive locksmithing. Specializing in a specific area allows you to develop expertise and cater to specific customer needs.
Building a Reputation
A good reputation is vital for success as a locksmith. Provide exceptional service to your clients, focus on customer satisfaction, and maintain high professionalism. Positive reviews and referrals from satisfied customers can significantly contribute to your reputation and help you attract more business.
Starting Your Own Locksmith Business
Once you have gained enough experience and feel confident in your abilities, consider starting your own locksmith business. Create a business plan, secure the necessary licenses and permits, and invest in quality tools and equipment. Establish a strong online presence, including a professional website and social media profiles, to promote your services effectively.
Marketing and Promotion
Effective marketing and promotion are essential to attract customers to your locksmith business. Utilize various marketing strategies, such as online advertising, search engine optimization (SEO), local directories, and word-of-mouth marketing. Develop a marketing plan tailored to your target audience and continuously evaluate and adjust your marketing efforts for optimal results.
Tools and Equipment
As a locksmith, having the right tools and equipment is crucial for performing your job effectively. Invest in high-quality lock-picking tools, key-cutting machines, lock installation and repair tools, and other specialized equipment. Stay updated with the latest advancements in locksmithing tools to stay competitive in the industry.
Here's a table listing the necessary tools and equipment for locksmiths:
| | | |
| --- | --- | --- |
| Tool/Equipment | Features | Usage |
| Key Cutters | Manual or electronic cutting machines for duplicating or cutting new keys | Used to duplicate keys or create new keys for locks |
| Lock Picks | Various shapes and sizes to manipulate internal components of locks | Used to pick locks and manipulate the pins inside to unlock them |
| Tension Wrenches | Apply tension to the lock cylinder while picking | Used in combination with lock picks to create a binding effect and set pins |
| Plug Spinners | Rotate the lock plug in the opposite direction to unlock it | Used after successfully picking a lock to turn the plug and open the lock |
| Extractors | Different designs for removing broken or stuck keys from locks | Used to extract broken keys or foreign objects stuck inside locks |
| Drill and Drill Bits | Drilling machines and various drill bits of different sizes | Used to gain access to locks or extract broken components |
| Lock Rekeying Tools | Tools for removing and replacing pins and springs in locks | Used to rekey locks to work with a new key |
| Plug Follower | Tube-shaped tool to hold lock cylinder during rekeying | Used to hold the lock cylinder in place while replacing pins |
| Key Extractor Sets | Tools for extracting broken keys from locks | Used to grip and remove broken key fragments from locks |
| Key Decoders | Tools for decoding lock cuts and spacing | Used to determine the key cuts by decoding the lock itself |
| Key Impressioning Tools | Tools for making impressions of locks and creating working keys | Used to create a new key by making an impression of the lock |
| Lock Scope | Specialized tool for inspecting lock internals | Used to view and investigate lock components or malfunctions |
Keeping Up with Industry Changes
The locksmith industry is constantly evolving with new technologies and advancements. Stay informed about industry trends, security systems, and lock technologies. Attend industry conferences, workshops, and training programs to expand your knowledge and stay ahead of the curve.
Networking and Professional Development
Networking with other locksmiths and professionals in related industries can be valuable for your career growth. Join locksmith associations, attend trade shows, and participate in online forums and communities to connect with peers and learn from their experiences. Engaging in professional development activities, such as continuing education courses, can also enhance your skills and credibility.
Challenges and Rewards of Being a Locksmith
Being a locksmith comes with its own set of challenges and rewards. While the work can be physically demanding and require you to work odd hours, it also offers the satisfaction of helping people in need, solving complex problems, and the potential for a stable income. Embrace the challenges and focus on the rewarding aspects of building a successful locksmith career.
Safety and Security Considerations
Locksmiths play a crucial role in ensuring the safety and security of individuals and properties. It is essential to adhere to ethical standards, maintain client confidentiality, and follow legal requirements. Stay updated with relevant laws and regulations regarding locksmithing practices and prioritize safety in all your locksmithing activities.
Annual Salary for Locksmith in Virginia
The average salary for a locksmith in Virginia is $48,000 per year. Locksmith salaries in Virginia can vary between $23,500 to $79,500 and depend on various factors, including skills, experience, employer, bonuses, tips, and more.
Here are some of the factors that can affect the salary of a locksmith in Virginia:
Skills: Locksmiths with specialized skills, such as experience with electronic locks or security systems, can command higher salaries.
Experience: Locksmiths with more experience can earn more than those with less experience.
Employer: Locksmiths who work for large companies or government agencies typically earn more than those who work for small businesses or independently.
Location: Locksmiths who work in urban areas typically earn more than those who work in rural areas.
Bonuses and tips: Some locksmiths earn bonuses or tips, which can add to their overall salary.
If you are interested in becoming a locksmith, there are a few things you can do to increase your chances of earning a high salary. First, get the necessary training and certification. Second, build your skills and experience. Third, network with other locksmiths and seek employment opportunities for high-paying employers.
Final Thought
Becoming a locksmith in Virginia requires education, training, experience, and dedication. Following the outlined steps, you can embark on a rewarding career as a locksmith. Remember to improve your skills continuously, adapt to industry changes, and provide exceptional service to build a successful locksmithing business.
FAQs
Q: How long does it take to become a locksmith in Virginia?
Ans: The time it takes to become a locksmith in Virginia can vary. It depends on factors such as the type of training you pursue, the length of the apprenticeship, and the time taken to complete the licensing process. On average, becoming a licensed locksmith can take several months to a few years.
Q: Are there any age requirements to become a locksmith in Virginia? 
Ans: You must be at least 18 years old in Virginia to become a licensed locksmith.
Q: Can I specialize in a specific area of locksmithing in Virginia? 
Ans: Yes, locksmiths in Virginia can choose to specialize in residential, commercial, or automotive locksmithing based on their interests and market demand.
Q: Is locksmithing a physically demanding profession? 
Ans: Yes, locksmithing can be physically demanding as it often involves working with heavy tools, performing tasks that require strength and agility, and sometimes working in challenging environments.
Q: How can I stay updated with the latest advancements in the locksmith industry? 
Ans: To stay updated with the latest advances in the locksmith industry, you can attend industry conferences, workshops, and training programs. Additionally, networking with other locksmiths and participating in online forums and communities can provide valuable insights and information.
Q: What services do locksmiths in Virginia provide?
Ans: Locksmiths in Virginia offer a wide range of services, including lock installation, repair, and replacement. They can assist with key residential, commercial, and automotive locks issues. Additionally, locksmiths can help with emergency lockouts, safe installation, key duplication, and security system installations.
Q: How much does it cost to hire a locksmith in Virginia?
Ans: The cost of hiring a locksmith in Virginia can vary depending on the specific service needed, the complexity of the job, and the time of day or night. Basic services like lockout assistance or key duplication typically have a lower cost. At the same time, more complex tasks, such as installing high-security locks or repairing intricate locking systems, may incur higher charges. It's advisable to contact a few locksmiths in your area to get price estimates for your specific needs.
Q: Are locksmith services available 24/7 in Virginia?
Ans: Many locksmiths in Virginia provide services 24 hours a day, seven days a week. Lock-related emergencies can happen anytime, and locksmiths understand the importance of immediate assistance. Whether you find yourself locked out of your house late at night or facing a car lockout during the weekend, you can typically find a locksmith in Virginia who offers round-the-clock service.
Q: Are locksmiths in Virginia licensed and insured?
Ans: Yes, reputable locksmiths in Virginia are usually licensed and insured. A license ensures that the locksmith has met the requirements and possesses the required skills and knowledge to perform their job. Insurance protects the locksmith and the client in case of any accidental damage or injuries during the service. It is recommended to verify the license and insurance of a locksmith before hiring them to ensure their credibility.
Q: How long does it usually take for a locksmith to arrive in Virginia?
Ans: The arrival time of a locksmith in Virginia can vary depending on factors such as your location, the time of day, and the locksmith's availability. In urgent situations, such as lockouts, many locksmiths strive to reach their customers as quickly as possible, often within 30 minutes to an hour. However, it's essential to communicate your situation clearly when requesting locksmith services to get a more accurate estimate of their arrival time.