The HotLogic Mini Portable Oven is the latest cooking technology.
Expandable- Lightweight
What is a Hot Logic?
The HotLogic Mini Personal Portable Oven. It is an evolution in cooking technology.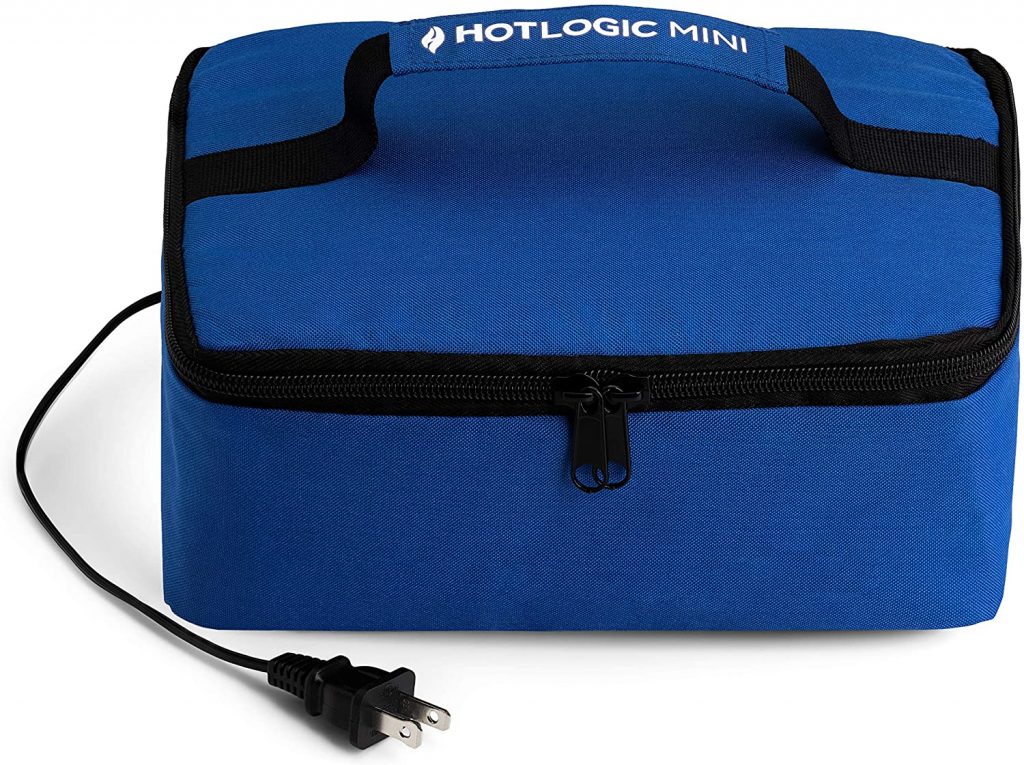 What Will You Get?
Mini expandable portable oven
Glass dish
1-year limited warranty
HotLogic Mini Portable Oven Reviews
SET IT AND FORGET IT
There is no monitoring needed. You place your meal inside, plug it in, set a time, adjust a temperature, turn on a burner, then… flip, stir, turn, rotate even remove food until you are ready to eat fresh hot meals.
Done!
Seriously!
You can do that with the Hot Logic Mini food warmer. It is the world's first portable cooking device to use "Artificial Intelligence" to think for itself and change the way America thinks about eating.

YOUR FOOD IS PERFECTLY COOKED
You can reheat your meals or cooked prepackage, frozen meats, and vegetables anywhere without burning or drying your food.
HOT FOOD WITHIN ARM'S REACHES
This mini HotLogic oven or food warmer is ideal for lunch at the office, parties, and home kitchen use.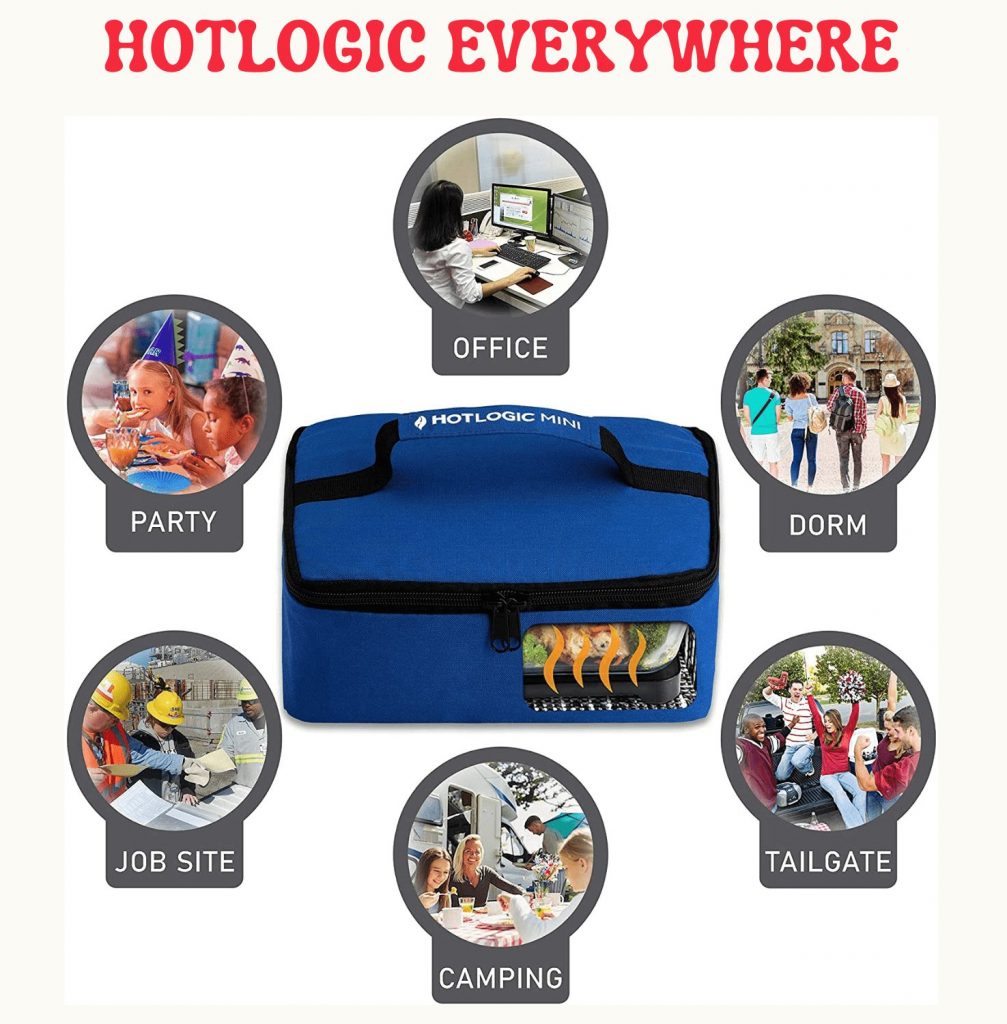 How does Hot Logic work?
Hot Logic Mini Oven slowly and steadily heats your meals to preserve moisture and increase flavor in a tiny plug-in lunchbox!
It can hold it there for hours without burning, overcooking, or drying the food.
You can use it on any flat-bottom container made of plastic, glass, Tupperware, or metal, provided the lid is sealed.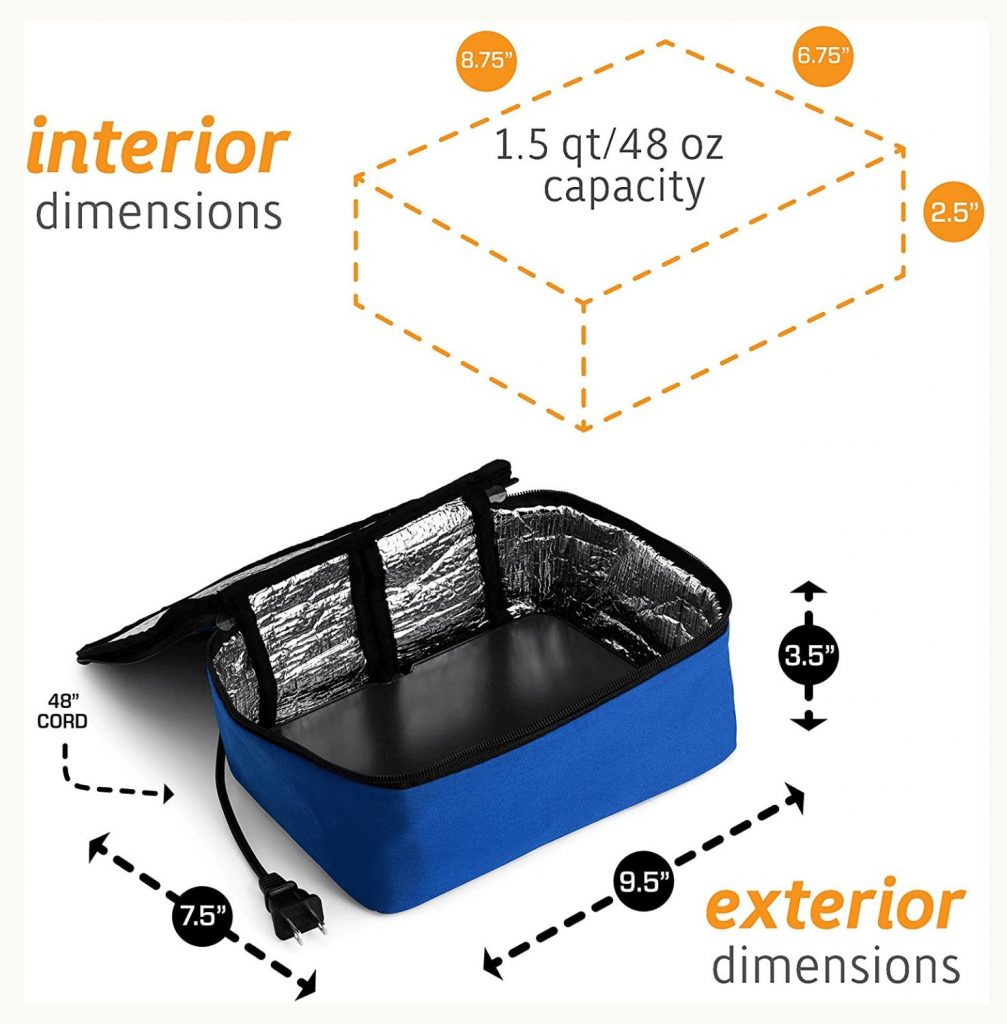 Key Features of Mini Hot Logic
Mini Meals, Re-heats, and Holds Food Hot for Hours
It will hold your meal at the perfect temperature of about 165 degrees Fahrenheit for even hours without overcooking, burning, and drying out the meal.
Eye-catching, portable case
Heat insightful interior magnifies and maintains heat
Double zipper
Enriched with Patented Smart Shelf(PSS) heating technology that wipes clean with a soft or damp cloth.
Save enough time and eat healthier meals!
Provided with standard 110v plug.
Smart Shelf Cooking Element
It uses less energy than your microwave.
You can plug into the cigarette lighter in your car
Hot logic mini is appropriate for plastic, glass, metallic, cardboard, aluminum foil, etc.
You can cook meals in a sealed container, and the slow, even heating removes splashes and explosions of food.
Hot Logic Mini Ovens are well-suited for U.S.-based 110-volt outlets. We should use an electrical converter to ensure proper setup for customers outside the USA.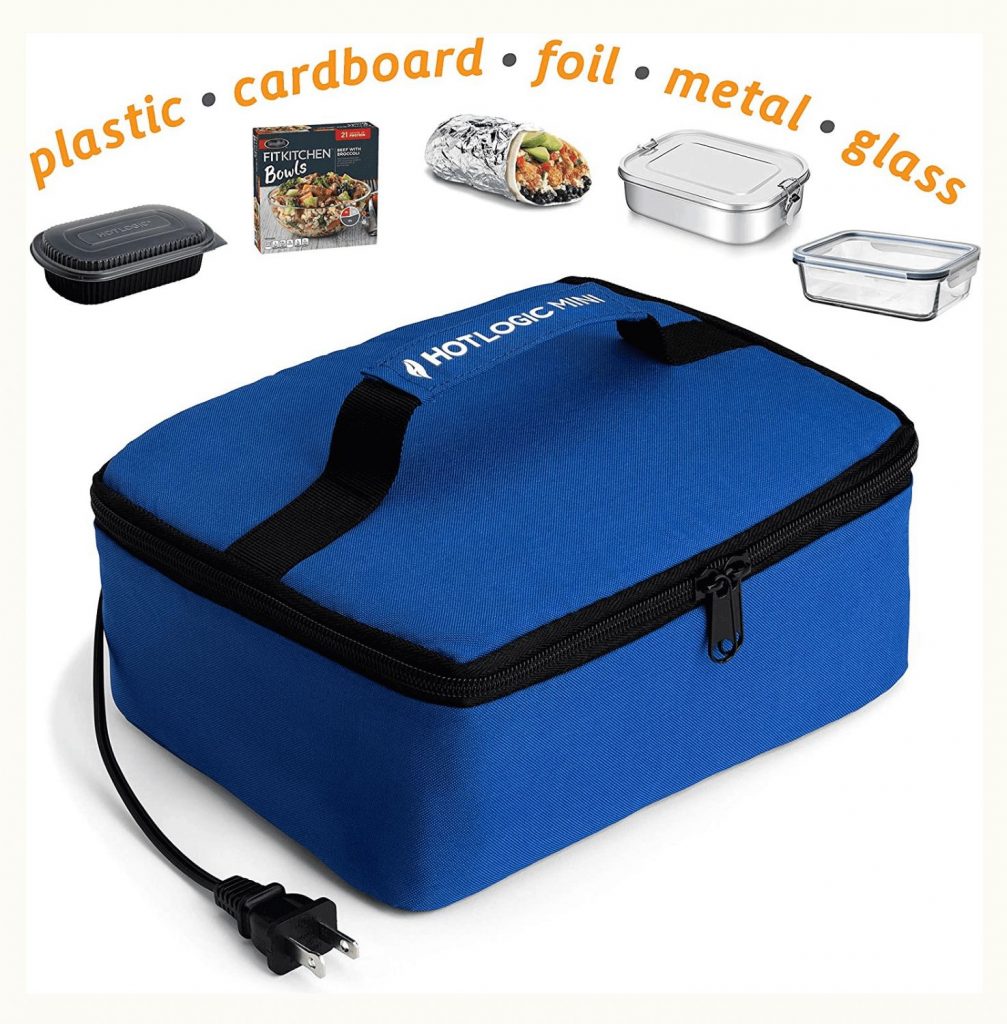 HotLogic Accessories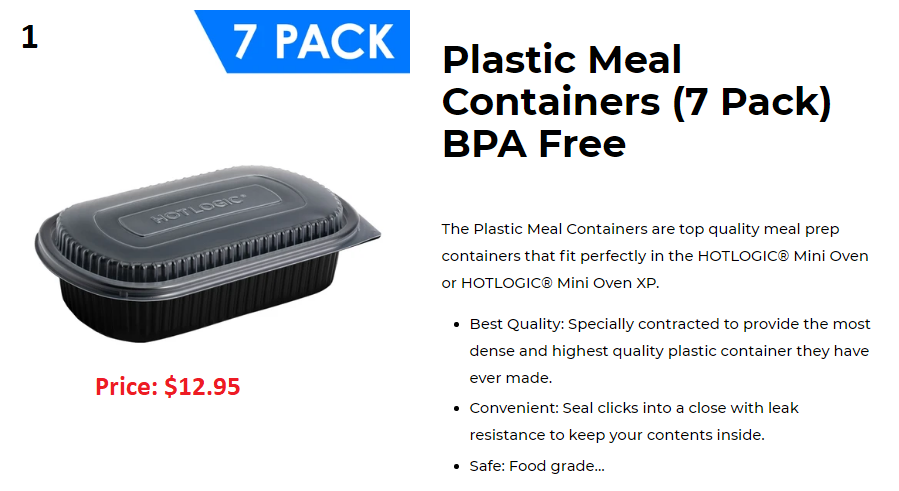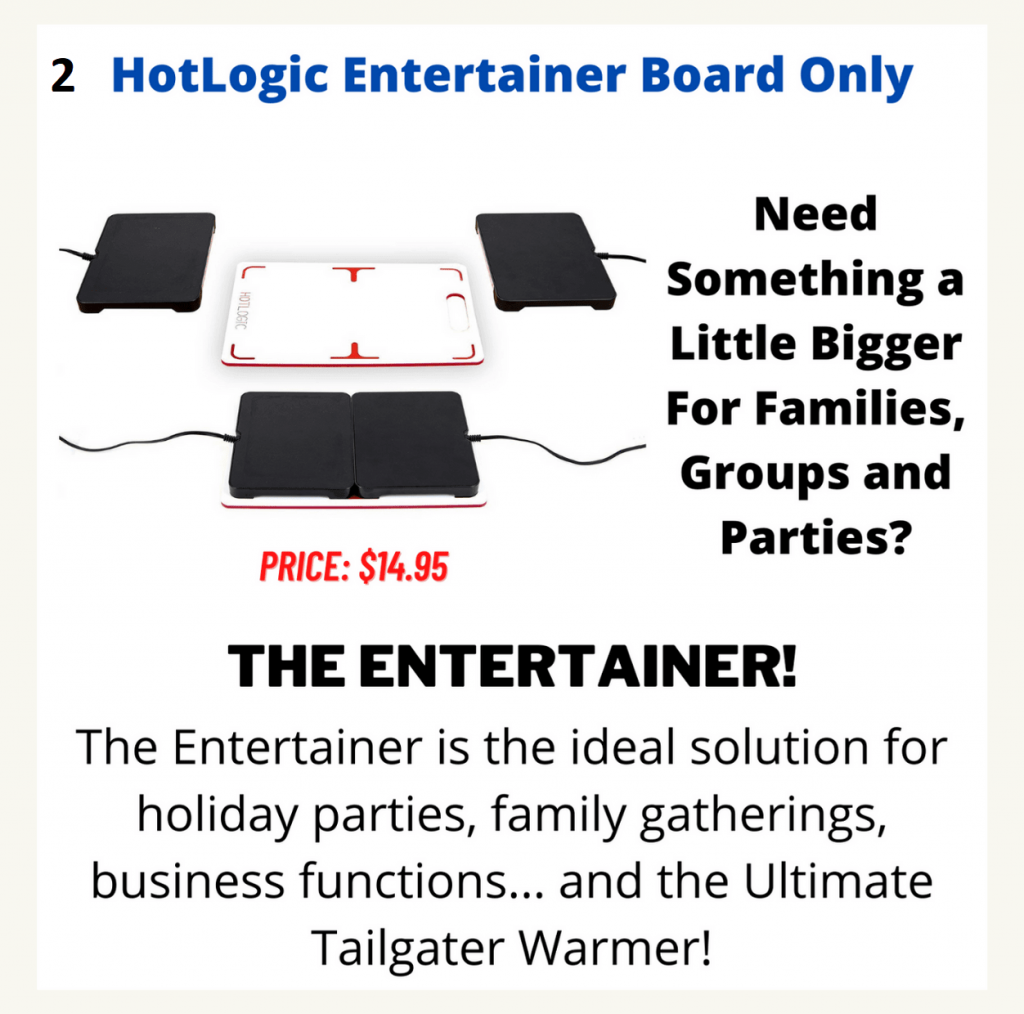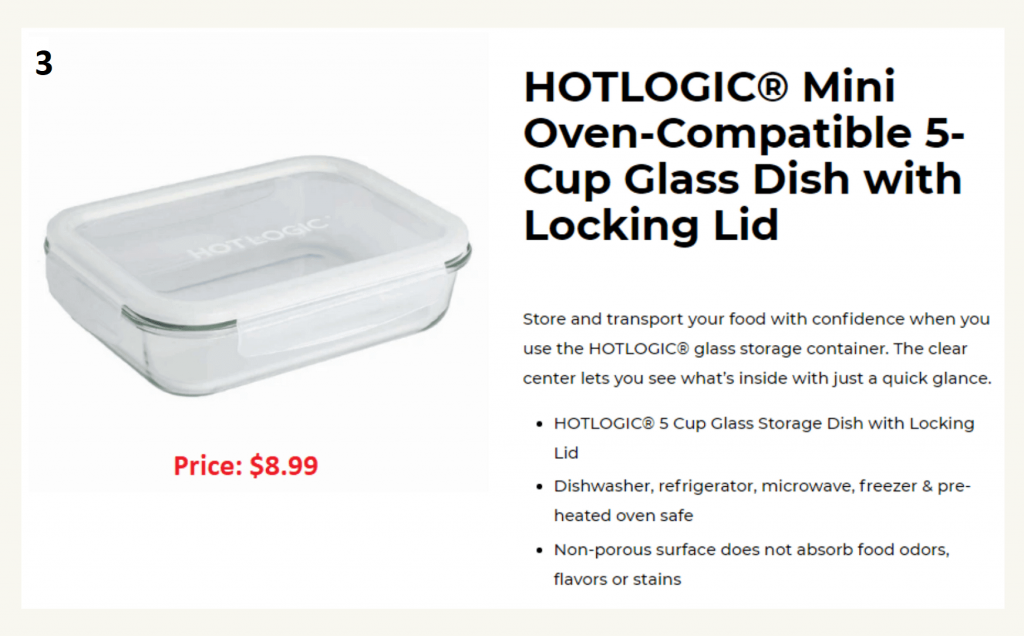 FAQs-HOTLOGIC Mini Portable Oven
01. Is Hot Logic safe?
When your meal has finished its heating cycle, the HotLogic Mini will hold it at a pathogenic safe serving temperature for several hours to prepare your meal to serve when you are prepared to eat.
02. Can my co-workers smell the food?
There is no smell while heating up. Then the only time you can smell it is once you open the container.
03. Can I plug Hot Logic into the cigarette lighter in a car? Or with an electrical outlet?
The Mini Hotlogic oven pulls 45 watts and plugs into 120V AC. To use it in the car, you would need an inverter that plugs into the cigarette lighter. A 75-watt inverter costs about $16-21 On Amazon.
Furthermore, an AC plug helps you to plug in a USB for charging cell phones, etc.
You can plug the inverter into your cigarette lighter. Then plug HotLogic Mini into the inverter as the inverter is rated twice the device's power requirement, no problem.
04. Has anyone experienced taking Hot Logic through airport security?
Many air travelers have commented on having zero problems going through security with the HotLogic Mini.
05. Can Hot Logic be put on any surface (Cloth, chair, carpet)?, or can it damage something?
No problem, you can put it on the table, it won't damage the surface. You can also put it on the floor or the carpet at work.
But be careful about putting this on a table with varnish. The bottom will get hot enough to turn the varnish white.
Set the HotLogic on something more durable; Formica or another countertop is fine. Putting a towel underneath will be the best option.
06. How long is the electrical cord?
Roughly 4ft. You can gather it up and store it in a pocket on the back of the oven insulated bag.
07. How much power does it use in amps/ watts?
The Hot Logic Mini uses less than .5 amps. / 24 watts
08. How hot does the hot logic mini get?
165 degrees